" . . . Sharny takes a piano solo to which she adds, in unison, a wordless vocal. It's an exquisite experience to hear this . . . done so well, with such reverence for the jazz tradition. In a world of over-rated and over-stated jazz singers, Sharny Russell is a gem. Her trio could headline any jazz festival in the country."
Eric Myers, National Jazz Chord Magazine.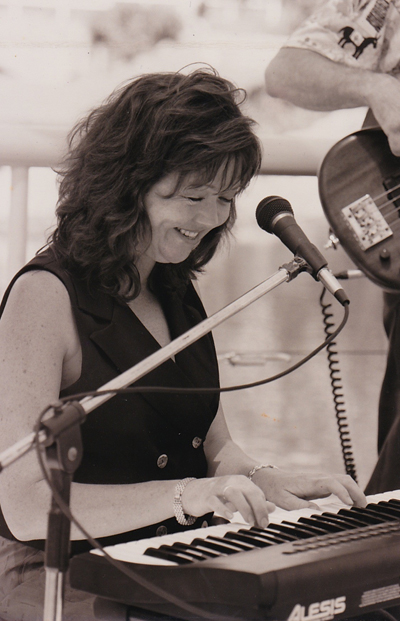 Sharny performing at Pacific Bay Resort, Coffs Harbour, 1998.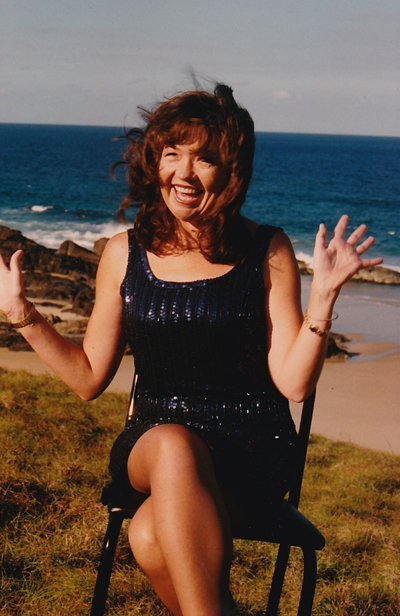 Publicity shots at the beach, 1997.
"Sharny was my teacher and she's one of the country's foremost jazz vocalists. She writes her own material (which is becoming more common for jazz singers now, thankfully) and her songs are incredibly well-crafted and of course, sung to perfection."
 Melissa Forbes, Head of Contemporary Voice Studies, USQ.
"Sharny is a musician who sings and plays piano honestly and joyously . . . I've seen her perform many times, and loved each one! it's always a pleasure to hear her do her thing." Kristin Berardi, Winner of Montreax Jazz Festival vocal prize, Wangarratta Vocal Competition, and the Freedman Award.
"(A Good Thing On Hold. Sharny Russell – ABC Jazz) 
Rating: 8 stars. You know, some long afternoons you sit facing the hi-fi with a stack of new releases and the quiet thrill of expectation. That's not always wise, for hopes can be dashed as much as realised. This is one album that leapt out from the throng from the moment it started playing. Aaah . . . Lovely. Some beautifully recorded piano and acoustic bass, competent and fresh jazz arrangements and to top it all, the relaxed, attractive and secure vocal talents of Sharny Russell. I should have known. ABC Jazz have never, in my humble experience, released an artist who wasn't worthy, and they record and produce albums so well. I've said that before. So – a scurry for the press notes. It turns out Sharny, accompanied here by her brother Stephen on piano and backing vocals, sister Helen on double bass and vocals (their parents were musicians), has been singing for 20 years and now lives in Byron Bay. She has a welcoming voice, warm and polished at the same time. She always sounds comfortable even as she plays with a lyric and melody line. Hear the vocal flirtation signing off the title track, a vocal lick of extreme class. You know you're in good hands. And that extends to her supporting players, who are also established musicians, not least the formidable David Ades (a larrikin of the alto and another Byron Bay denizen). The original songs which comprise the album are a treat too – not the usual roster of standards – why bother? – but a deft set of interesting and appealing tunes which offer cohesion as well as variety. The multi-tracked voice and backing vocals on the title track come as a surprise and show another whole set of possibilities for this gifted singer from whom we should hear much more. For now, do have a listen to this assured, substantial album." The Financial Review (Aug 15 2003).
"With an intimate and sophisticated style and sweet lyrical voice Sharny Russell creates some of the freshest, classy jazz arrangements around today." APRA review – Nominations List 2004.
Just now getting a chance to listen to "A Good Thing on Hold". Some gorgeous moments Sharny. I really like your writing, the arrangements especially. Your lyrics are "real honest" and a singer who sings perfectly in pitch . . . ahhhhh . . . what a joy. I've been handed a bunch of CD's of late from here, there and everywhere. The first thing that hits me is pitch, then tone, groove, soulfulness, honesty and story telling. I can hear you have ALL in abundance. I like how your piano playing informs what you do as a vocalist – it's real nice. Great to hear you and your brother and sister together – what a talented family. John Hoffmann and the rest of the musicians and vocalists, all sound real fine. THANK YOU for sharing this recording with me, Sharny. What a lovely surprise (not that I didn't expect you to be real fine). Chris McNulty (New York based, Award winning, Australian jazz singer/writer).
"Sharny is the eldest member of the Russell family who are often referred to as one of Australia's most talented musical dynasties. Although one is easily impressed by Sharny's career highlights, it is the magic in her voice that one remembers most. Smooth and pure, a vocal style that pays reverence to beautiful lyrics while keeping the listener connected to the melody, along with her nationally recognised scatting prowess. Then of course, as a pianist, she has been my brother James' and many others' first choice on a few occasions, and is one of Australia's very few exponents of the George Benson style of unison voice & piano improvisation. She is loved and respected in the jazz community of this country as a performer and also as a writer of compelling originals."
 John Morrison, drummer & jazz educator.
"In short, some of those songs are spine tingling . . . the writing is exquisite – beautifully crafted songs."
 Ingrid James, singer & recording artist, Brisbane, Queensland.
" . . . exuberance stems from vocalist Sharny Russell who, in her puckish way, can do wonderful mischief to a lyric, bending phrases and harmonies, teasing fresh nuances from the standards but never sacrificing musical quality. She is one of Australia's best female jazz singers." The Courier Mail.
"Sharny – this stuff is seriously, seriously good. It's world class and I'm really digging it. I can't wait to get the whole album! . . . And to think that a week ago I just thought you were a lovely lady that wrote kids music…! Blown. Away." Jared Haschek, keyboards and songwriter. Compliments of Gus, Melbourne, Victoria.
"Sharny! Thanks for your knowledge, and skill, and patience in teaching us all.. I've been meaning to tell you, I've been listening to your Velvet Live CD, and I think my favourite thing about it is the youthfulness and joy of your singing." Steph D (student).
"I miss hearing your voice – really. I learn so much when i hear you sing." Mark J (student).
"Russell is a purist whose voice drips with so much sweetness and good cheer as to ward away evil spirits . . . immaculate intonation and well-crafted scat lines." Rave Magazine.
"You are a very special person, which comes out in your beautiful singing – from the heart!" Connie I.