"
" . . . great songs! . . . totally ageless.
I can see whole schools and choirs getting immersed in what you have created. Your gift is wonderful."
Brendon Clancy, International Children's Ministry.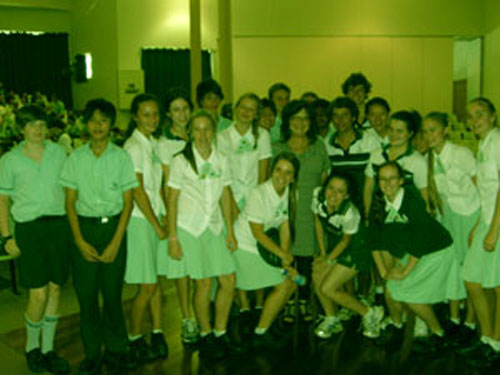 Sharny with students at Trinity Lutheran College, Ashmore, Queensland.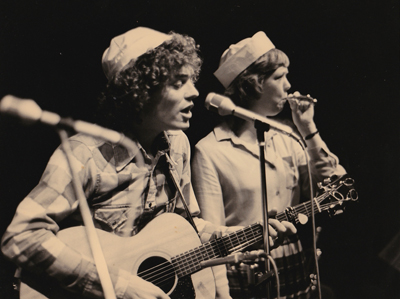 Sharny performing with Peter Combe, ABC 1977.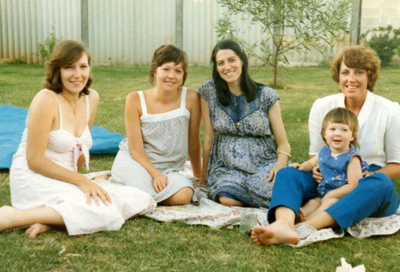 Adelaide Yamaha Team enjoying a picnic lunch with Pamela, Jane, Paul & young Ali.
"This lady is writing excellent music for children to sing, appropriate to their age and development. These songs are a much needed resource for choirs as well as solo and duet work." Patricia Oertel, adjudicator & vocal coach to recording artists,  Sydney.
"What great songs! They are totally ageless. We have listened with great joy. l can see whole schools and choirs getting immersed in what you have created. Your gift is wonderful." Brendon Clancy, Overflow Music & Christian City Church International Children's ministry.
"These are songs that have stayed with me through all my years of singing. Their re-release is long overdue. I can't wait to live it all again." Jason Turnbull, Ten Tenors.
"Fabulous! and just the kind of thing teachers are looking for." Toni, school teacher.
"Your Kid's Album has been played incessantly. Not only do the kids love it, but my husband insisted that we put it on when we were travelling in the car!" Jan.
"I was so thankful for your CD for the kids, because I was so over the Wiggles etc, and at last they wanted to listen to something that I really enjoyed as well! It grooves and swings!" Chris.
"We have had your 'Kid's Album' for a week and our nine year old son has played it so often, that our teenage son swears he's off beetroot for life!" Carole.
"When I am playing your music, my children say 'This is my favourite' to each song as it comes on! You have brought many blessings and joy into our home. Thank you!" Mary.
"I don't think I have to tell you that you were a hit, but I'll tell you anyway. You were a hit. I couldn't believe the response from our conservative kids. Amazing." Linda, youth president, after a performance at a state youth conference.
"I just wanted to let you know that the kids are loving the Gone Fishin' CD! As soon as I put it on they start dancing around the living room, singing the main lines." Catherine.
"Meaningful songs and heaps of fun at the same time! Couldn't be better. We are learning them off by heart, and learning so much else at the same time. Thank you for your professional dedication to children's music." Geoff, school teacher.
"My 6 year old son plays your kids CD at night before he falls asleep. He knows a lot of the songs off by heart now. He loves you and is very excited to meet you again!" Liz.
"The whole family is thoroughly enjoying this inspired and cool music for kids! Wow, what a gift!" Jenni.
"Even the more supposedly older songs on the CD are reaching my 3 year old who constantly sings lines from your songs. She insists on the CD being on at night to fall asleep to." Elsa.